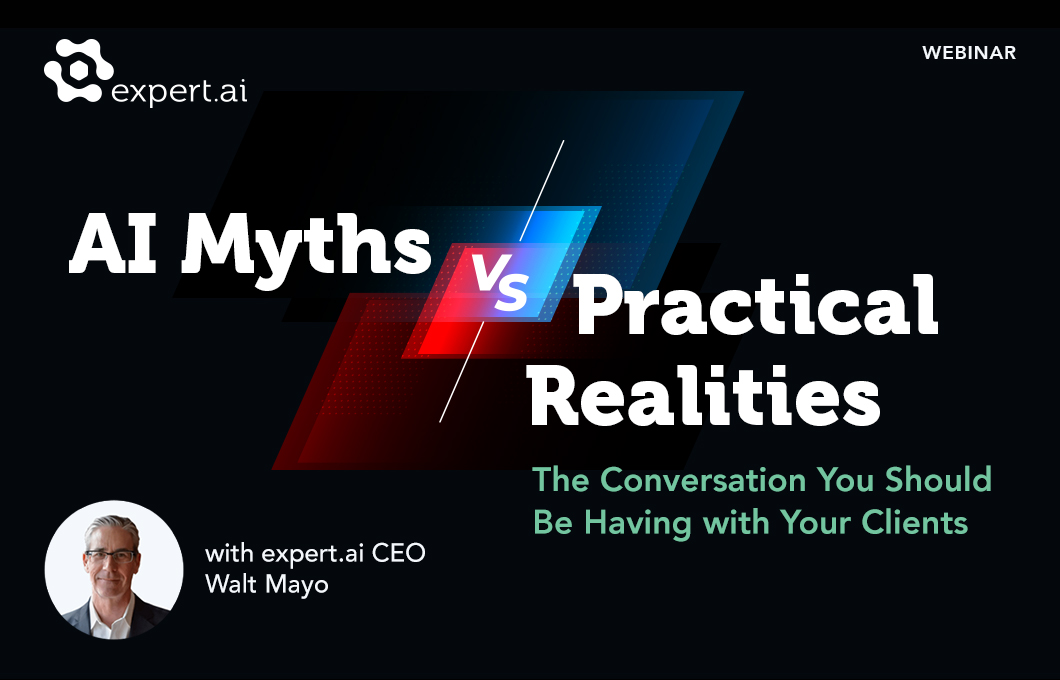 AI will change our lives in many unforeseen ways, but few have the patience for experiments or vague promises. Organizational leadership is looking exclusively for scalable, replicable and operational solutions — and they want it fresh out of the box.
These inflated expectations around AI often overshadow the tangible results that are possible with the proper approach and implementation of AI. As a result, you face a difficult challenge in establishing the strategic value AI can offer your clients.
But fear not! In our next webinar, we introduce a simple, practical benchmark that you can use to guide your clients in their AI buying decision. Join us on Tuesday, May 11 at 12.30 p.m. EDT for "AI Myths vs. Practical Realities: The Conversation You Should Be Having with Your Clients" with expert.ai CEO Walt Mayo and expert.ai Head of Channel Development Gavin Sollinger.
This session provides a unique opportunity for system integrators to learn more about how AI-based natural language understanding can supercharge their business and value proposition.
Tune in to learn:
The biggest misconceptions holding back AI implementations
How different AI techniques impact operational costs and end results
Why data may be the best determinant of your ideal AI approach
How to address the staying power of your AI approach and avoid the dreaded technical debt
At the end of the webinar, we will save time for you to ask any questions you have about the expert.ai Partner Community. Reserve your spot today and we'll see you there!