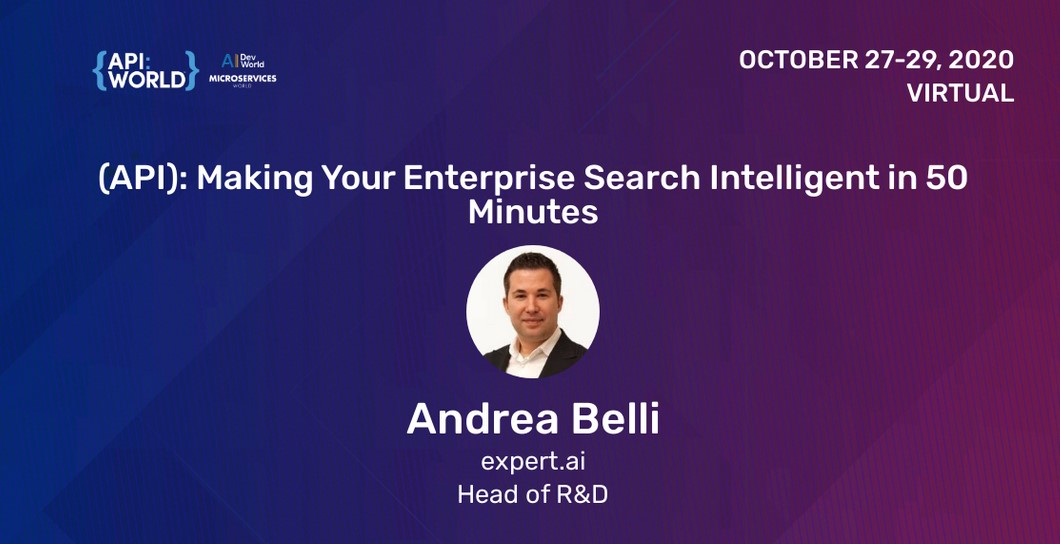 2020 Theme: The Project Lifecycle
API World, the largest virtual conference and expo organizing the new API economy, is going virtual! This year's event aims to provide a brand-neutral environment that facilitates connections, knowledge, trust and business within the developer community.
On Wednesday, October 28th, 2020 from 2:00pm – 2:25pm ET, expert.ai Head of R&D Andrea Belli will present: "(API): Making Your Enterprise Search Intelligent in 50 Minutes".
In this technical workshop, Andrea will showcase how to effectively integrate the expert.ai NL API with a main enterprise search engine. This will enable the audience to:
Understand the richness and quality of metadata extracted by the API from text in five different languages
Discover the speed and simplicity required to integrate one of the most advanced enterprise search platforms on the market
Enhance the user experience via a more accurate information retrieval process
If you are a coder, a startup or an enterprise that consumes or provides multiple APIs this is your event.