The dawn of Enterprise AI
La tercera edición de "Cogito AI Day", la conferencia organizada por Expert System dedicada a la Inteligencia Artificial (IA) aplicada al análisis de la información y la comprensión del lenguaje natural, se celebró el jueves 24 de octubre en Milán.
Más de 300 personas participaron en la conferencia, en la que estuvieron representadas las principales compañías italianas como Illimity Bank, Unipol, Emilia Romagna Region, Intesa Sanpaolo, SEC Newgate, Zurich, Datlas, Generali, Poste, Parva, Eudata, Fastweb, E&Y, Infocert, Capgemini, Value Partners, CMMC o Leonardo.
El conferenciante principal del encuentro, Francesco Caio, presidente de Saipem, un destacado experto en digitalización de empresas públicas y privadas, comentó que, "cuando hablamos de big data, sobre todo pensamos en números, pero hay una gran cantidad de información en el texto que debemos aprender a optimizarla para aprovecharla al máximo. Nuestro desafío actual es contar con expertos en tecnología que puedan transformar estas oportunidades en un plan de negocios".
La evolución del mercado y las estrategias de innovación, el uso efectivo de los datos y su valor para las empresas son algunos de los temas que acapararon un mayor protagonismo durante la conferencia. ¿Dónde nos encontramos en términos de progreso con la IA? Qué la hace "inteligente" y cómo una organización crea verdadero valor a partir de los datos?.
Mike Gualtieri, vicepresidente, y analista principal al servicio de profesionales de desarrollo y entrega de aplicaciones  de Forrester, centró su intervención en la revolución que se está produciendo en el mundo de los negocios, gracias a la inteligencia artificial. Gualtieri realizó una comparación  con los cambios que se produjeron durante la revolución industrial que, a través de las máquinas, aumentó nuestras capacidades productivas. Un paralelismo válido con la revolución de la inteligencia que, con el software y las computadoras, continuará aumentando nuestras capacidades cognitivas. Actualmente, ya es una realidad que las organizaciones se encuentran en los albores de la Inteligencia Artificial, y que ningún proceso de transformación digital puede concebirse e implementarse sin ella.
Las previsiones del mercado respaldan este escenario ya que según las estimaciones de Forrester, casi todas las empresas utilizarán inteligencia artificial en los próximos 5 años.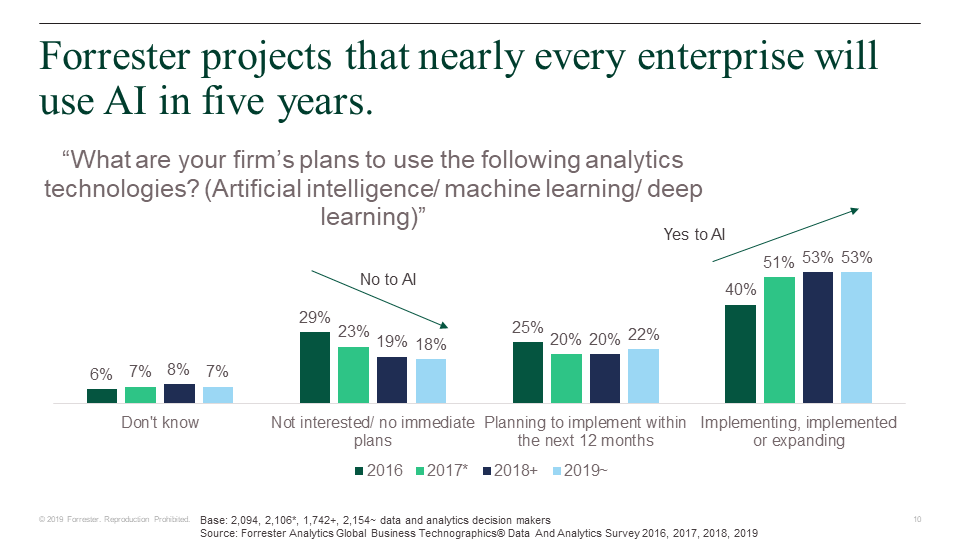 "El papel central de la IA en los procesos y la transformación de los modelos de negocio es lo que ha acaparado las experiencias y debates del Cogito AI Day de este año", apuntó Stefano Spaggiari, CEO de Expert System. "La inteligencia artificial está liderando la revolución tecnológica que estamos experimentando para ser más eficientes y mejorar nuestra competitividad y capacidad de producción".
¿Qué es Cogito®?
Cogito® es la plataforma de Expert System basada en algoritmos de Inteligencia Artificial que imita la capacidad humana de comprender el lenguaje y la información textual compleja a escala, con la precisión que requiere actualmente el mundo empresarial.
Basado en una representación de conocimiento rica e independiente del dominio (Cogito Knowledge Graph), Cogito integra lo mejor de la comprensión del lenguaje natural (NLU) y el aprendizaje automático (ML) para automatizar de manera inteligente los procesos comerciales y obtener conocimiento relevante y crítico sobre la información disponible en cualquier organización.
En este escenario de tecnologías cada vez más inteligentes, ¿cuál es el papel de la inteligencia humana?
"La inteligencia artificial y la inteligencia humana son complementarias y no alternativas", destacó Marco Varone, presidente y director de tecnología de Expert System. "La inteligencia humana es fundamental para el éxito de la inteligencia artificial, y una base de conocimiento sólida es el factor crítico para complementarse y poder gestionar eficazmente los complejos escenarios actuales".