KMWorld 2021 will bring the community back to Washington, DC this November! At KMWorld 2021, you'll get practical advice, hear inspiring thought leadership, and have access to in-depth training and workshops on how KM and related disciplines can provide enormous value for your organization and transform your business.
This year's conference theme, Knowledge Sharing in the Age of New Technologies, focuses on culture, people processes, and the many different types of technologies supporting organizations as they excel in their industries.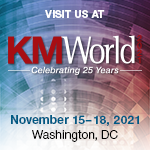 KMWorld and its co-located events, Taxonomy Boot Camp, Enterprise Search & Discovery and Text Analytics Forum, showcase organizations who have creative digital strategies for their future. See how they are addressing digital disruptions and changing the culture of their enterprises.
Please join expert.ai Head of Sales and Sector Strategy, Christophe Aubry, in his keynote presentation on Thursday, 11/18 at 9:45am EST.
Don't miss this opportunity to reconnect with colleagues, peers, and experts, and learn how successful knowledge management can transform your organization. Visit us at booth 200, to say hello to our team of experts, in person!
Use our special VIP discount code: VIPEXP to register and receive 30% off regular rate. Code will expire by early-bird registration deadline!