The dawn of Enterprise AI
The third edition of "Cogito AI Day," the Expert System conference dedicated to Artificial Intelligence (AI) applied to the analysis of information and Natural Language Understanding, was held on Thursday, October 24 in Milan.
Over 300 attendees participated in the conference, including leading Italian companies illimity Bank, Unipol, the Emilia Romagna Region, Intesa Sanpaolo, SEC Newgate, Zurich, Datlas, Generali, Poste, Parva, Eudata, Fastweb, E&Y, Infocert, Capgemini, Value Partners, CMMC, and Leonardo.
The event's keynote speaker, Francesco Caio, President of Saipem, a leading expert in the digitization of public and private companies, commented: "When we talk about big data, above all we think about numbers, but there is a wealth of information in text that we must learn to make the most of. Today, our challenge is having technology experts and managers who are able to transform these opportunities into a business plan."
The evolution of the market and innovation strategies, the effective use of data and its value for companies are just some of the themes that the conference covered. Where do we stand in terms of progress with AI? What makes it 'intelligent,' and how does an organization build true value from data?
Mike Gualtieri, VP, Principal Analyst Serving Application Development & Delivery Professionals – Forrester, focused on the revolution that is taking place in the business world thanks to AI, putting in parallel the industrial revolution, which, through machines, continues to increase our physical capabilities, with the intelligence revolution that, with software and computers, will continue to increase our cognitive capabilities. Today, it is a fact that, inside the organization, we are at the dawn of Artificial Intelligence, and no digital transformation process can be conceived and implemented without it.
Market forecasts support this scenario: according to Forrester's estimates, nearly all companies will use artificial intelligence within the next 5 years.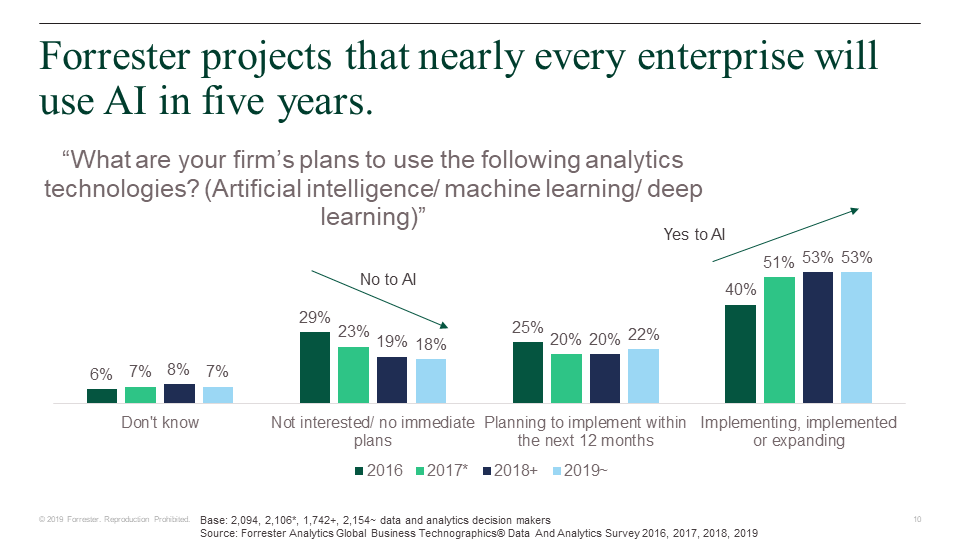 "The central role of AI in the processes and transformation of business models is what has overwhelmingly characterized the stories, experiences and debates at this year's Cogito AI Day," said Stefano Spaggiari, CEO of Expert System. "Artificial Intelligence is leading the technology revolution we are experiencing to become more efficient and improve our competitiveness and production capacity."
What is Cogito®?
Cogito® is the Expert System platform based on Artificial Intelligence algorithms that mimics the human ability to understand the language and complex textual information at scale and with the accuracy required by today's business world.
Based on a rich, domain-independent representation of knowledge (the Cogito Knowledge Graph), Cogito integrates the best of Natural Language Understanding (NLU) and Machine Learning (ML) to intelligently automate business processes and harvest relevant knowledge and critical insights from all the information available in your organization.
In this scenario of increasingly intelligent technologies, what is the role of human intelligence?
"Artificial intelligence and human intelligence are complementary and not alternatives," highlighted Marco Varone, President and CTO of Expert System. "Human intelligence is fundamental for the success of artificial intelligence, and a solid knowledge base is the critical factor for both to work together to effectively manage real-world complexity."