Claims Automation
Automatically extract critical content needed to accelerate claims processes and let SMEs focus on high-value tasks
Claims management is a language-intensive process that requires collection, processing and analysis of large amounts of diverse information. This information can include complex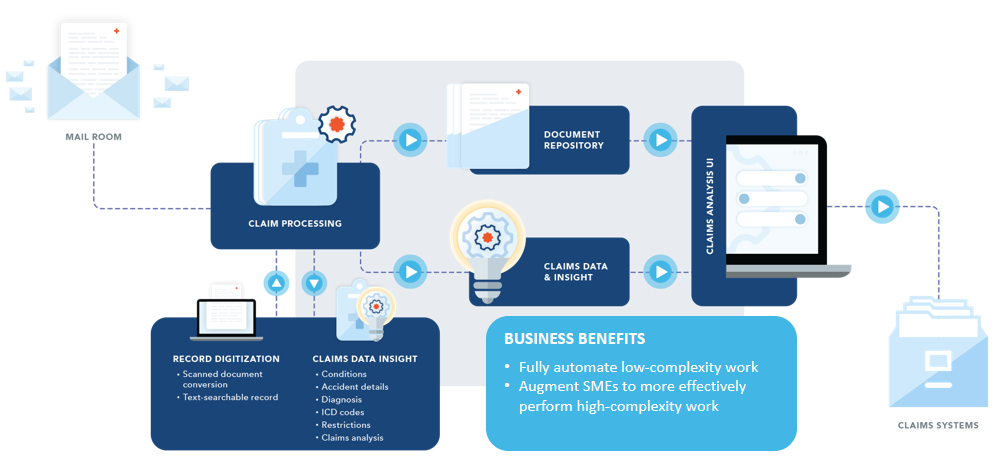 documents such as claims forms, medical reports, accident descriptions, police reports and much more. Efficient claims management activities are critically dependent on processing the right information at the right time.
Unfortunately, manual validation of claims is both slow and costly. It delays payouts to customers already suffering from property loss or a significant medical issue. Not to mention, the impact that slow claims response has on customer satisfaction. The lack of process standardization often results in increased leakage in the form of payouts that are higher than expected.
Leveraging the Enterprise Language Model for Insurance (ELMI), expert.ai claims solutions provide a a cost-effective, safe, accurate, and flexible large language model built specifically to accelerate claims processes.
Put expert.ai for Claims Automation to work
Extract details from legal, medical and police records
Extract the most common insurance data records entities from unstructured and semi-structured data sources to use in automation and decisioning systems.
Capture Unstructured and Semi-structured Data Extracts
Build custom extraction templates for semi-structured data forms like CMS 1500, police reports and ACORD.
Improve Extract Data Quality
Normalize and augment medical records and other data against ICD and other industry standards.
Automatically Prioritize Claims
Determine urgency, severity and intent to speed up high-volume handling and routing.
Summarize Claims
Generate content summaries of claims, medical docs, key terms identification for claims, policy review and submission checks.
Categorize for and Eliminate Records from Review
Categorize submission, claim and demand packages into different record types and categories to expedite routing or eliminate reviews.
Augment Claims Handlers
Optimize claim handlers' time by providing them with data and insight to make better, faster decisions while keeping humans in the claims loop.
Integrate Directly into System of Records
Easily integrate extracted data and derived values for complexity, urgency an record type into claims automation systems like Guidewire.
Benefit from AI augmented Claims Automation with:
Reduced document review and extraction times by 90+%
Reduced claim review times by 50+%
30%  fewer claim submission documents to review
Minimize leakage with improved compliance consistency and objectivity
Improves process standardization and operational efficiency by capturing claims subject matter expertise during the process
Stronger fraud detection to find suspicious information across multiple documents and identify differences between a customer's story and official documentation
See how to leverage AI to automate your claims automation.