As organizations turn to natural language understanding to accelerate their digital strategies, expert.ai and msg DAVID unlock the full potential of enterprise data with powerful AI-based IT solutions
 Today, expert.ai announced an original equipment manufacturer (OEM) partnership with msg DAVID a part of msg group, a leading German company providing software solutions and IT consulting in a wide range of industries. As part of the partnership, expert.ai's natural language (NL) capabilities will be embedded into msg DAVID applications and solutions to help organizations maximize digitalization opportunities through a practical, simplified and ROI-oriented adoption of artificial intelligence (AI) technology transforming data into actionable insight.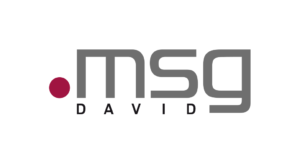 As part of msg Group, an independent and international Group of companies with more than 8,500 IT specialists worldwide, msg DAVID offers agile software development with a particular focus on the automotive industry, speeding up the evolution and development of new language data-driven applications. By leveraging expert.ai core NL capabilities, msg DAVID is supercharging companies' ability to effectively understand and process textual information to drive new competitive efficiencies.
"The demands on software are growing and leading to ever increasing complexity. The focus is now on key components for fast time-to-market." said Arne Koch, msg DAVID Managing Director. "It is significant to draw on experience and strong partnerships, especially in the field of artificial intelligence, in order to offer smart solutions."
"Artificial intelligence is rapidly evolving the way we access data – IT leaders need to lead this path as our daily devices and business applications are expected to get increasingly smarter," said Stefan Welcker, Global Head OEM, expert.ai. "We are excited to partner with msg DAVID to help companies embrace a practical, ROI-oriented learning curve in how to leverage the power of AI-based NL to improve efficiency and decision-making processes."
About msg DAVID GmbH
Individual software solutions and IT consulting since 1991, with more than 250 highly specialized software experts, msg DAVID is a force to be reckoned with in the Braunschweig/Wolfsburg region. Under the umbrella of the msg group of companies with over 8,500 IT specialists worldwide, we unleash our full strength and inspire with customized IT solutions for industry. What comes from our heads and hearts moves millions of people around the world every day. Agile software development – from consulting and project management to development, architecture and implementation – we offer everything from a single source.
For more information visit https://www.msg-david.de/