Expert.ai, the leading enterprise AI company solving complex language challenges, today announced that it has been named to the list of "Trend-Setting Products" for 2023 by KMWorld Magazine.
Each year, KMWorld magazine looks for innovative offerings that are helping organizations derive greater benefit from their information, share knowledge more efficiently, make better decisions, improve compliance and security, effectively support employees, and communicate more seamlessly with customers. The Trend-Setting Products list features innovative solutions, cutting-edge technologies, software or platforms that pioneer new approaches to knowledge management (KM) and advance digital transformation.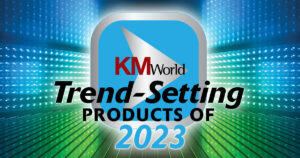 "There is no denying the impact of generative AI on products and services in the KM space today," states Tom Hogan Jr., Publisher of KMWorld. "This is a huge story for 2023. At the same time, it's not the whole story. From NLP and knowledge graphs to cloud computing and low-code development platforms, we have watched vendors pioneer really innovative approaches to solving core KM issues from a constellation of evolving technologies and strategies. This has proved to be a really exciting year for innovation. The products and services on this list embody the vision and execution that will continue to drive the market forward to new heights." 
This recognition follows on the heels of the company's recent launch of the new expert.ai Platform for Life Sciences, the launch of the expert.ai Platform for Insurance and the introduction of generative AI capabilities for the insurance industry in ELMI, the expert.ai Enterprise Language Model for Insurance. 
"Our unique offering combines the full range of AI language approaches, including symbolic AI, machine learning, and large language models (LLMs), enabling cost-effective solutions for a range of real-world applications," said Keith C. Lincoln, expert.ai CMO. "This innovative approach is a testimony to the creativity of our R&D, product and go-to-market teams. It's an honor to be recognized for the tenth consecutive year among forward-thinking vendors who are leading the way in innovation."