Expert.ai today announced that it is one of KMWorld's 2023 top 100 Companies That Matter in Knowledge Management. The annual list, organized by publisher and information provider KMWorld, recognizes the most innovative companies that address the evolving demands and challenges for knowledge management.
Tom Hogan, Group Publisher, KMWorld, commented: "The increasing power of augmented and artificial intelligence, machine learning, natural language processing, semantic layering, knowledge graphs, cloud computing, chatbots, text analytics, and more has revolutionized many aspects of KM. Putting together the list of 100 companies that matter in KM causes us to look at companies with pioneering solutions. We applaud innovation, agility, and a focus on the customer. We are excited about the future."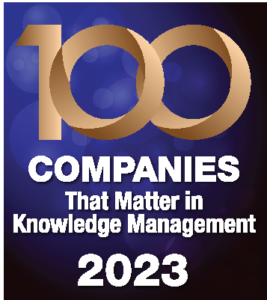 This marks the ninth consecutive year that expert.ai has made the annual list, where it is distinguished for its pioneering vision for hybrid AI and through its complete suite of natural language solutions designed to help organizations expand their use of information and accelerate growth.
"We are honored to be recognized by KMWorld as one of the most innovative companies in knowledge management," said Keith C. Lincoln, CMO, expert.ai. "Thanks to hybrid AI, the strategic gains of natural language can be embedded in more use cases than they've ever been before, making enterprise data understanding and analysis simpler, more accessible, accurate and easily scalable."
Uniquely in the market, the expert.ai hybrid AI platform offers a comprehensive approach to process any business document, transforming language into actionable knowledge and insight. Users can select and leverage the power of the full range of AI approaches: knowledge-based AI, machine learning, deep learning, and large language models (LLMs) like GPT. This enables the unique capability of offering customers a single environment on which to build the most cost-effective, fit-for-purpose natural language solutions that deliver optimal results across any domain or business process.
Learn more about KMWorld's 2023 top 100 Companies That Matter in Knowledge Management: KMWorld 100 Companies That Matter in Knowledge Management 2023
Learn more about the latest release of the expert.ai hybrid NL platform, including the integration of OpenAI's GPT: Expert.ai Hybrid AI Platform Integrates GPT.