Enabling the expert enterprise to capture the strategic value of language
KMWorld has named expert.ai on its annually published list KMWorld 100 Knowledge Management Companies That Matter in 2021, showcasing companies that are innovative in advancing their products and capabilities to meet changing customer requirements.
"Flexibility, agility, and the ability to pivot are attributes that have become critical to forward-thinking companies—and that is particularly the case now. Successful organizations don't want to merely survive; they want to dominate their market sectors. But to do that, they need the right tools and products," said Tom Hogan, Group Publisher at KMWorld. "Amidst the dramatic changes taking place today, innovative organizations are seeking new approaches to improve their processes. The 2021 KMWorld 100 is a list of leading-edge knowledge management companies that are helping their customers to expand access to information, leverage new opportunities, and accelerate growth."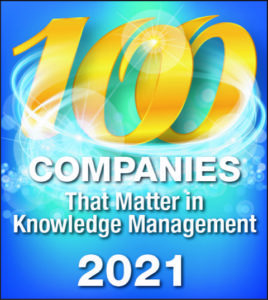 Expert.ai has been a pioneer of natural language understanding technology, offering an artificial intelligence (AI) platform that is easy to deploy and operate. By enabling expert enterprise, expert.ai augments and expands expertise for every job or process that involves language.
"To be recognized as one of the Top 100 Companies That Matter in KM for the seventh consecutive year is an honor and this year is particularly rewarding given the progress we have made in making our technology more accessible to the enterprise market," said Walt Mayo, CEO of expert.ai. "Our Hybrid NL platform provides a deep understanding of language for faster, better decisions — the way an expert would. It is powerful enough for the most advanced use cases and simple enough for the businesspeople who use it. And in every case, it delivers results you can understand and act upon."
Learn more about expert.ai powerful AI tools that ensure accurate language understanding at speed and scale for any domain or process. Understand the language of your business. Power any application that uses the data of language. And make more of your team expert at what they do. Request a live demo.