Expert.ai today announced that the expert.ai Platform has been named a 2021 KMWorld Trend-Setting Product. This marks the eighth consecutive year expert.ai has received this prestigious recognition which aims to help spread the word about new and noteworthy solutions that are helping to improve organizational systems.
"Important trends in knowledge management – AI, natural language processing, machine learning, knowledge graphs, blockchain, and low- and no-code development – are shaping the capabilities of products and services for 2021 and beyond," said Tom Hogan, Jr., Group Publisher of KMWorld. "But although cutting-edge approaches are emerging, established solutions are also evolving with new capabilities, resulting in a wealth of choices for companies looking to leverage their information resources more efficiently. To help showcase these innovative offerings, KMWorld magazine is presenting the Trend-Setting Products of 2021."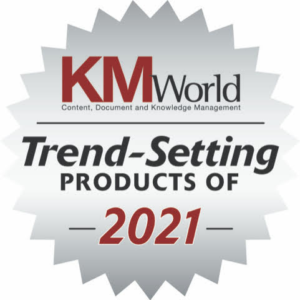 The expert.ai Platform transforms language into data that delivers business insights and accelerates knowledge-intensive processes. It consolidates natural language capabilities thanks to the integration of best-in-class AI-based technologies with a comprehensive, yet simple and powerful authoring environment.
"Unstructured language data is a unique data domain that is continuously growing within every organization," said Keith C. Lincoln, CMO at expert.ai. "It's where competitive advantage lies and it's how businesses make decisions. Earning a spot on the KMWorld Trend-Setting Products corroborates the innovative approach of our new Platform in delivering value and results on this data, enabling organizations' ability to access, understand and get out the most of it."