Expert.ai will showcase the benefits of Hybrid AI for pharma R&D and patient-centric clinical trials in a panel discussion with Pfizer and Servier
Expert.ai announced today that it will be showcasing its comprehensive solutions for pharma R&D and patient engagement at the AI4 Healthcare Summit 2021, a virtual conference taking place on May 5-6, 2021.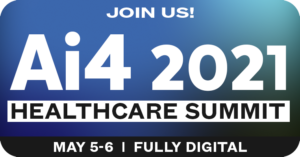 Expert.ai's solutions empower the life sciences & pharma industries to transform data into knowledge and insights in real-time through its deep understanding of data, domain and language complexity. These solutions are driven by Hybrid AI technology that include Machine Learning, Natural Language Understanding, along with standard and curated ontologies.
"The amount of life sciences and medical data is growing exponentially, so finding the key insights for the right purpose is like finding a pearl in the ocean," said Archna Bhandari, Executive VP, Data and Analytics at expert.ai. "Clinical trials allow us to tap into the potential of AI throughout the drug development life cycle, starting with trial design and planning, identifying principal investigators & site locations, enrolling patients, and monitoring adverse events."
During the AI4 Healthcare Summit, expert.ai will join Pfizer, and Servier in the panel discussion, "AI for Patient Engagement & Clinical Trials" on May 6, 2021 at 2:30 pm EDT. This panel of pharma experts will explore how patients are more effectively engaged before, during and after clinical trials thanks to artificial intelligence. See the event website for the full agenda and for more information: https://ai4.io/healthcare/full-agenda/