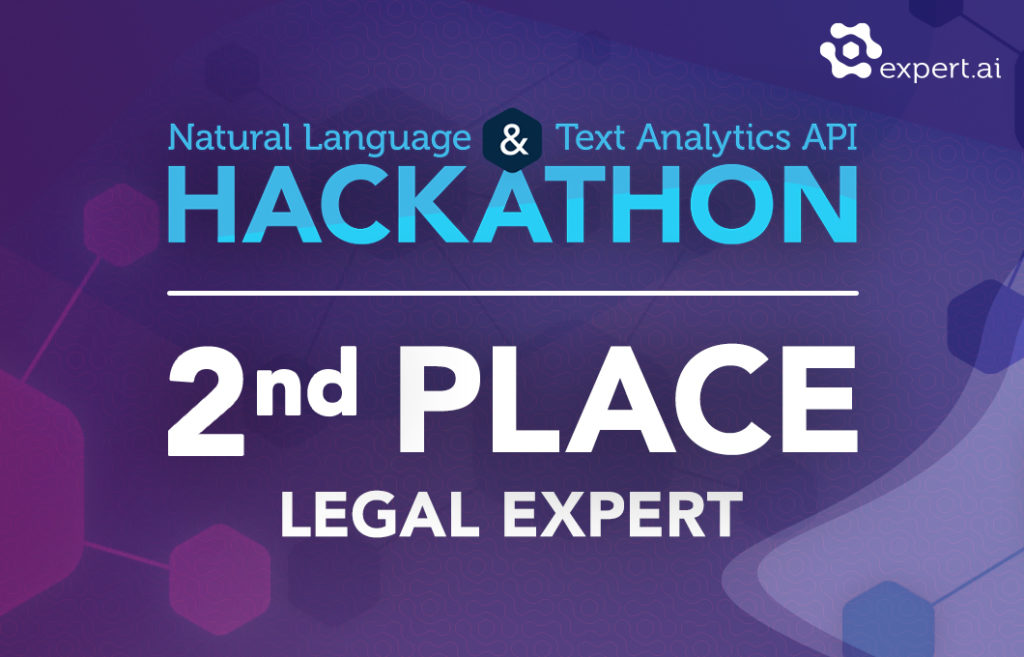 The first expert.ai Natural Language & Text Analytics API Hackathon may be complete, but the impact many of these entries can have on real-world situations may still be felt far from now. This is especially true of the second-place app submission, Legal Expert, crafted by 21-year-old India natives Rishav Raj Jain and Abhay R. Patel.
The Story Behind the Legal Expert App
While this hackathon was a unique opportunity to experiment with new technology — and compete for prizes — Rishav and Abhay also saw it as an opportunity to help their community. The inspiration came from hundreds of farmers in Madhya Pradesh's Betul district who were cheated by an organization that disappeared after entering a contract for drumstick farming in 2018.
Unfortunately, this is one of many examples of fraud against farmers. The common thread between most of them being that they exploited farmers via language. Not only are farmers forced to navigate legal documents written in non-native languages, but they also must contend with the complex legal speak used throughout each lengthy document.
Through Legal Expert, Rishav and Abhay sought to make analysis of these documents easier for farmers and arm them with the knowledge they need to protect themselves. This is done via document analysis of uploaded documents which are then summarized into an easy-to-read report that includes information such as people's names, company names and much more. Most importantly, these reports can be translated into multiple Indian languages.
How They Built It
Rishav and Abhay used their go-to programming language, Javascript, to build most of the application with React.js for the front end and Node.js for the back end. In addition to that, they also leveraged MongoDB, Netlify and Heroku.
Their catalyst for the entire application was the expert.ai NL API. In performing full document analysis, the team leveraged the resulting key phrases to summarize the documents as well as entity extraction to identify important entities and other involved parties within the legal text. In addition, they utilized the sentiment analysis functionality to determine whether documents exhibited any negativity or bias.
"The NL API was really developer friendly and easy to use. Our favorite feature was its complete document analysis. We will definitely be using it for our future projects."
Future Plans for the NL API
It's always inspiring to see the innovative ways people employ the expert.ai NL API. It was especially rewarding to see it used for such humanitarian reasons. With their recent success building out the Legal Expert app, Rishav and Abhay are eager to get the Legal Expert website into production and get the application in the hands of its first users.
Is there more NL API in the future for this talented duo? You can count on it. Though this was just their first experiment with the NL API, Rishav and Abhay are already believers in its out-of-the-box capabilities and ease of use.
"We definitely see ourselves using the NL API for our future projects. Anything that needs an NLP element or requirement; NL API is the first thing that we are going to turn to."
We look forward to seeing what they do next. But until then, we hope to see the farmers of India get the legal assistance they deserve.