Each year, Gartner creates more than 100 Hype Cycles to explore the innovations and technologies that are gaining ground within a certain sector, assessing their maturity and potential through five phases: Innovation Trigger, Peak of Inflated Expectations, Trough of Disillusionment, Slope of Enlightenment and Plateau of Productivity.
In its latest Hype Cycle for Artificial Intelligence (AI), Gartner located natural language processing (NLP) in the Trough of Disillusionment phase.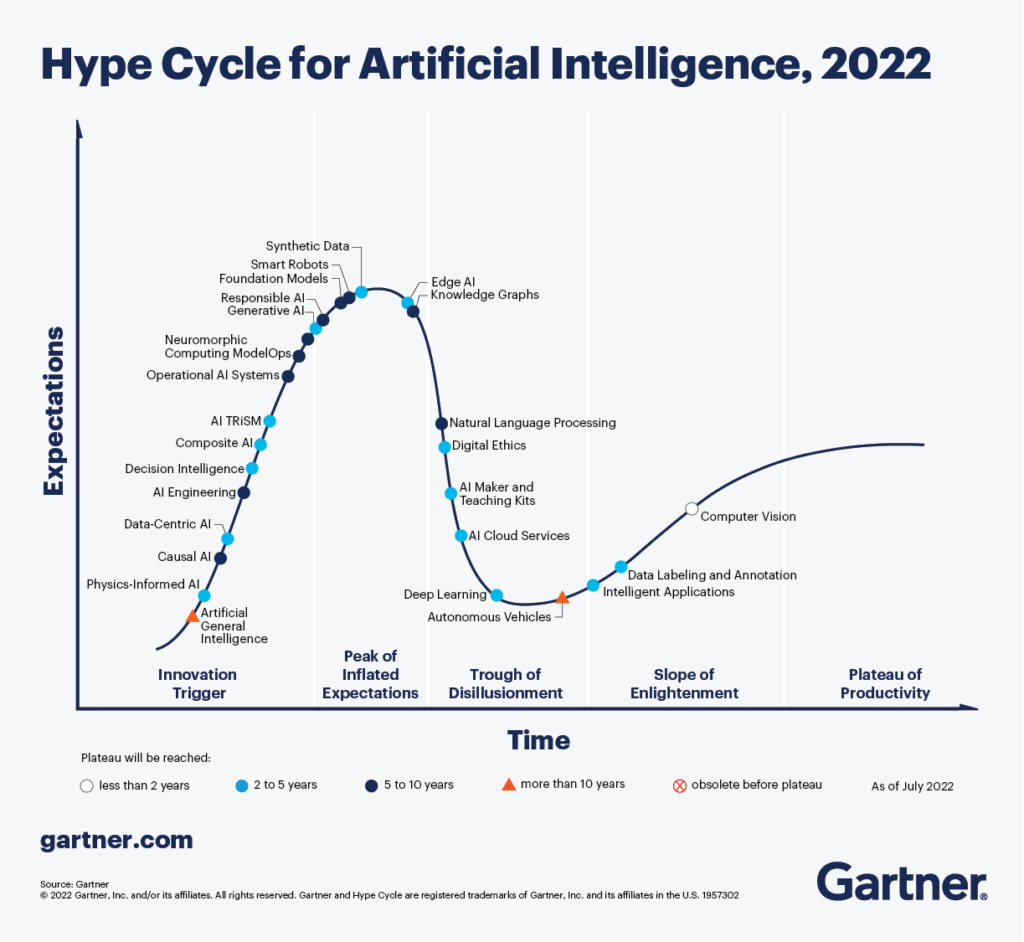 The increased use of AI across enterprise processes has stimulated greater interest and awareness of the advantages of NLP for reading, analyzing and processing large volumes of unstructured language data (e.g., any kind of text information: white papers and articles, contracts, claims, presentations, emails, customer interactions, online content, comments, etc.)
In fact, the overall AI market is only continuing to grow. Estimates by PWC have the AI tech market reaching $53.1 billion by 2026, and NLP is expected to be the most promising segment, registering Cagr of 42.2% between 2019 and 2026. A Sapio Research survey conducted among 150 NLP practitioners with active or planned projects also found that NLP budgets are increasing. And, an AI Journal survey found that four out of five organizations surveyed have NLP models in production with tens of thousands of documents being processed by each monthly.
Why NLP Entering the Trough of Disillusionment Phase is Good
According to Gartner, technologies are in the Trough of Disillusionment phase when media interest starts waning and/or real-world implementations struggle to deliver, and "Inevitably, impatience for results begins to replace the original excitement about potential value. Problems with performance, slower-than-expected adoption or a failure to deliver financial returns in the time anticipated all lead to missed expectations, and disillusionment sets in."
Is this bad for NLP? No. Going through a more realistic and practical phase is the best way for NLP (and any other advanced and innovative technology) to evolve in order to reach a period where adoption really starts to take off: the Plateau of Productivity. In fact, disillusionment means less hype, more reality; less pressure and expectations, more maturity and mainstream enterprise adoption; less confusion and greater clarity about what NLP can deliver, especially if based on a hybrid AI approach.
Hybrid AI, Generative AI, Responsible AI: More in Common that You Might Think
Gartner's analysts placed several technologies in the Innovation Trigger phase, including Hybrid AI (or Composite AI) and Generative AI and Responsible AI, both of which are entering the Peak of Inflated Expectations.
The Innovation Trigger phase describes the typical initial progression of the over-enthusiasm that accompanies a new technology, and "It starts when a breakthrough, public demonstration, product launch or other event generates press and industry interest." The buzz around a new technology living in the Trigger phase may build expectations greater than the technology itself is capable of. The Peak of Inflated Expectations phase is often where an investment bubble forms, as happened with the web and social media. This is what's currently happening with Generative AI, where OpenAI's ChatGPT has driven a surge of awareness, interest and investment.
Regardless of the media hype, I like the idea that Generative AI and Responsible AI are next to each other on the latest Gartner AI hype cycle, and not by chance.
Why We Need Responsible AI for Generative AI
The past four to five years of work in AI-based natural language technologies have been predominantly characterized by the development and deployment of larger language models (LLMs, like the ones behind ChatGPT) and machine learning (ML) techniques. In addition to growing concerns around environmental and financial issues, as well as the accuracy and reliability of datasets, we're also seeing greater attention to the possible risks associated with ML/LLMs and paths available for mitigating them. And here is where a Hybrid AI and Responsible AI approach can play a critical role.
Responsible AI is an emerging area of AI that has ensuring trust, ethics and democratization as its core principles. At expert.ai, we think these principles should also include transparency, sustainability, practicality and a human-centered approach. This is how we define our Green Glass Approach to Responsible AI, a framework for delivering AI-based natural language solutions for the enterprise. This framework makes it easier for organizations to ensure their AI projects are compliant with these four core principles. Note that this is becoming even more critical within the enterprise given required disclosure on environmental, social and governance (ESG) issues starting in 2024.
Hybrid AI Delivers Best Results for NLP Applications
Natural language processing based on Hybrid AI is still in its infancy. Why? Education, exposure, evangelism and enterprise awareness are part of the reason. Actual concentration on machine learning and LLMs is a key additional reason. However, it is increasingly clear that Hybrid AI for NLP is crucial for creating enterprise value. In fact, according to Forrester, "Hybrid AI delivers the best results for NLP Applications" and we believe that Hybrid AI in its Innovation Trigger phase will actually accelerate the Disillusionment phase for NLP to improve and reach the Plateau of Productivity – where mainstream adoption takes off.