Expert.ai Platform recognized for helping organizations automate business processes and simplify knowledge discovery
Expert.ai, the premier artificial intelligence (AI) platform for natural language understanding, today announced that it has been named to the KMWorld AI 50: The Companies Empowering Intelligent Knowledge Management. As the drive for digital transformation becomes an imperative for companies seeking to compete and succeed in all industry sectors, KMWorld gives this recognition to organizations that are enhancing solutions for intelligence and automation with AI and cognitive capabilities.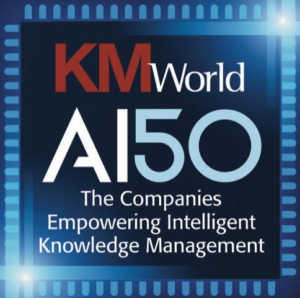 "A spectrum of AI technologies, including machine learning, natural language processing, and workflow automation, is increasingly being deployed by sophisticated organizations," stated KMWorld Group Publisher Tom Hogan, Jr.  "Their goal is simple. These organizations seek to excel in an increasingly competitive marketplace by improving decision making, enhancing customer interactions, supporting remote workers, and streamlining their processes."
Expert.ai's recognition on the AI 50 list follows the recent launch of its new natural language platform, enabling human-like language understanding at speed and scale for any domain or process. By providing the ability to process unstructured language data, expert.ai enables enterprises to make faster, more informed decisions using a hybrid approach to natural language understanding.
"We are honored to be recognized by KMWorld as an AI Trailblazer as one of the top AI 50 companies empowering intelligent knowledge management," said Keith C. Lincoln, CMO at expert.ai. "Successful natural language solutions must combine knowledge with the ability to learn. The expert.ai hybrid platform automates processes that use language data to deliver deep and accurate insights that result in truly impactful results."
To view the complete AI 50 list, click here.