Integration Description
Eudata and Expert.ai help companies innovate their relationship with customers and leverage the potential of artificial intelligence for customer assistance, sales support and marketing activities. By embedding expert.ai's natural language understanding technology in the Eudata omnichannel suite, companies can quickly implement conversational systems (chatbots). These systems provide users with new ways to access information through automated human-like dialogues where they can express themselves freely as they would in an ordinary conversation. They also increase operational efficiency by automating recurring activities that do not require specific skills or specialized knowledge, such as for retrieval of standard information, common assistance requests, requests for quotes, common offers, and so on.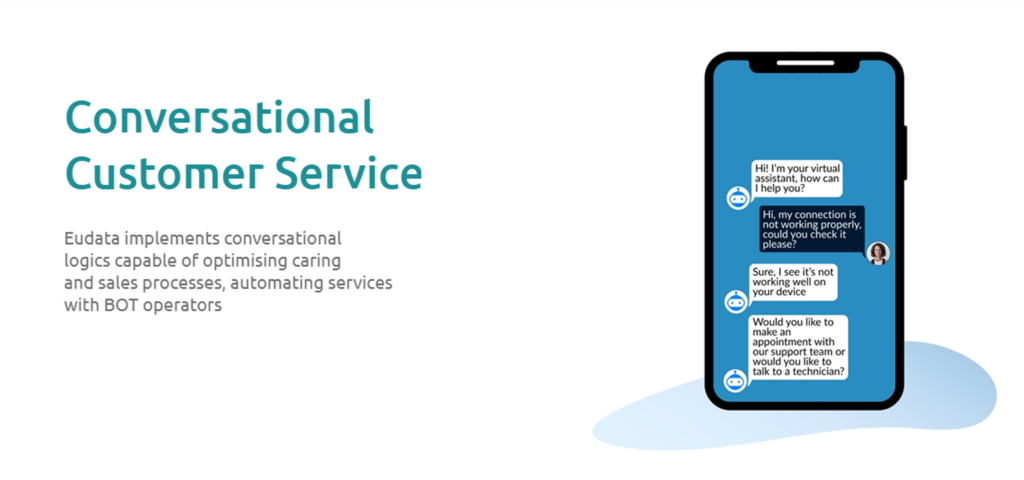 Use expert.ai to add intent, emotion, and contextual understanding to your chatbots
Company Description
Eudata helps brands to create value pathways for their clients, making them happy and brand loyal, maximizing the return of investment and ensuring recurrent revenues from customers. In doing so, we are constantly focused on the right balance between  human and A.I. automated services, in order to ensure both service speed and quality.