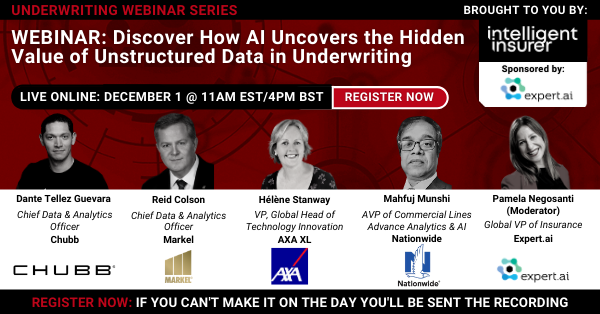 Discover How AI Uncovers the Hidden Value of Unstructured Data in Underwriting
December 1st, 2020 10:45am ET
In a post-COVID world, underwriters will face even greater pressure to deliver profits. Join expert.ai and Intelligent Insurer on December 1st, 2020 at 10:45am ET to see how you can deploy AI technology to underwriting to boost productivity, reduce expenses and enhance the customer experience.
Examine key AI use cases such as image and voice recognition, robotics, predictive analytics and NLU, to extract data, check and modify policies and triage submissions (especially valuable for commercial lines where the risk is higher, and the conditions are unique)
Reduce customer friction with chatbots and virtual assistants by tapping into your unstructured data with natural language understanding
Enhance renewals and accurately evaluate your exposure by leveraging AI to streamline manual, slow and error-prone processes as well as analyze non-standard policies
Improve efficiency and free up time for high-value tasks by transforming your submission triaging and processing via technology such as OCR and NLU
Make better business decisions by aligning underwriting with your risk appetite (e.g., classify and code standardized, historical risk data to decide what's viable
Expert.ai Global VP of Insurance Pamela Negosanti serves as moderator for this intriguing and timely discussion. Joining her in the discussion are leading executives from Chubb, Markel, Nationwide and AXA XL.
Register Here: Registration Available Soon – Stay Tuned