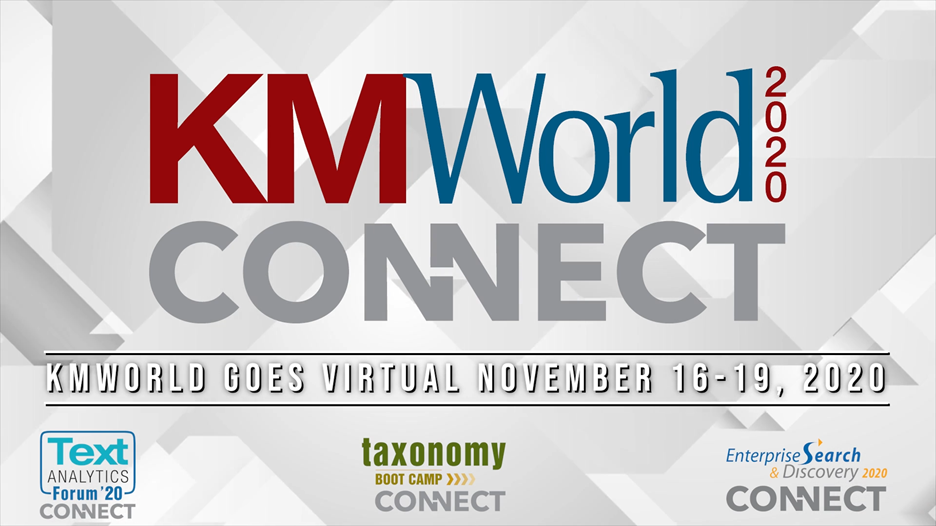 Knowledge Flows: Transformation, Technology, and Tools
KMWorld is going virtual as KMWorld Connect! This year's event will examine future-focused strategies, technologies and tools that can help organizations transform their business processes and approaches to innovation. To set the tone for the conference, expert.ai will be presenting the keynote speech alongside our valued customer, Dow Jones.
Mark your calendar for Tuesday, November 17 from 11:45am – 12:00pm EST, as Dow Jones Director of Content Strategy/Metadata Robert Pashinsky and expert.ai Managing Director Christophe Aubry take the stage for their keynote presentation, "Practical Semantic Hybrid Solutions" followed by a short Q&A. Together they will discuss why symbolic/rule-based AI and machine learning are not mutually exclusive methods, and how a hybrid approach can lead to better results.
KMWorld Connect and its co-located events Taxonomy Boot Camp, Enterprise Search & Discovery and Text Analytics Forum showcase organizations that have creative digital solutions for their future, use experimental and risk-taking processes to inform their practices, have made solid progress in changing the culture of their enterprises, and know how to utilize AI and other technologies in practical and useful ways to charge forward in their industries.