Policy Review & Comparison
How do you avoid unintended risk exposure between tens of thousands of data points contained in misaligned contracts and clauses?
How do you achieve contract certainty when policies are established or renewed?
How do you react to unexpected and/or rare events (e.g., cyber attacks, COVID-19, etc.) that disrupt your insurance processes?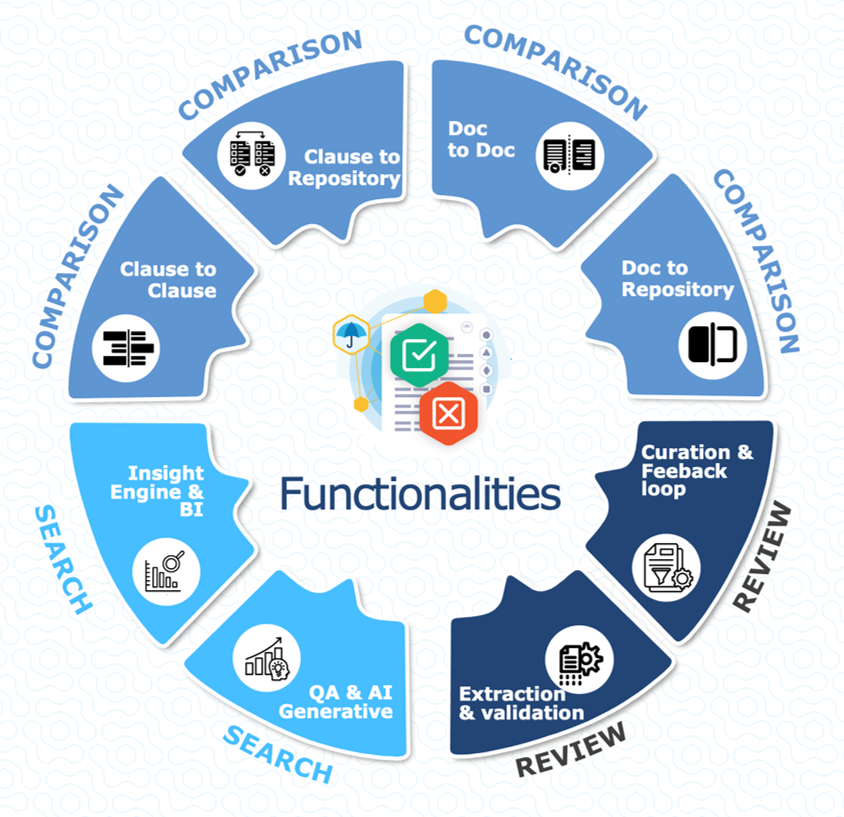 Across lines of business, a primary concern is to reduce leakages and unintended risk exposure while also ensuring coverage certainty. To achieve this, you must require recurring policy reviews, a critical activity owned by the underwriting function. Policy review is also important to brokers who face similar requirements in scenarios such as aligning a carrier binder to a policy.
Expert.ai technology automates parts of the tedious underwriting process that includes reading, understanding and aligning the content to lengthy checklists in a consistent manner. In this way, it augments human capacity via natural language understanding technology to support underwriters by making policy reviews faster, more consistent, and more accurate. Augment underwriters ability to expedite policy reviews, comparisons and routing based on underwriting triage guidelines, while reducing leakage and risk exposure and ensuring coverage certainty and standardization.
Put expert.ai for Policy Review and Comparison to work
Read, Understand, and Analyze
Our technology mimics the human ability to read text, enabling you to understand the definitions at the beginning of each policy, analyze and then classify it.
Extract Key Information
Our technology extracts key information based on customizable logic to understand exposure in terms of explicit coverages, implicit coverages, exclusions and endorsements.
Perform an Assessment
Our technology performs assessments that help you to answer specific yes/no questions as well as identify and detect over-exposures and misalignments.
Compare Documents and Aggregate the Information
Our technology compares documents to highlight differences between policies and visually displays aggregated results that can easily be exported and integrated into existing processes.
AI Search
Enhance the underwriter search experience and provide more interactive, engaging and precise results using natural language queries.
Benefit from AI augmented underwriting teams with:
Save up to 2 hours of review time per policy.
Increase the accuracy, consistency and standardization of policy reviews.
Reduced unintended exposure and review thousands of policies within minutes.
Scale subject matter expertise across review processes and add unlimited scalability
See how to leverage AI to limit leakage and unintended risk exposure.