Use Scientific Publication Insights & Analysis for:
Expert Identification
Stay up to date on leading experts in your field of inquiry. It lets you go beyond your network and presents measurable expertise metrics so you can identify both established leaders and rising stars. The current expert repository includes more than 12 million key opinion leaders and is updated daily.
Pharmacovigilance
Analyze safety signals contained within reported adverse events by identifying multifaceted relationships. Accelerate your search using summary views and detailed views with the case profile.
Clinical Trials
Visualize completed and ongoing clinical trials filtered by any combination of indication, drug, mechanism of action, sponsor or geography. Not only can users find related trials, they can also access related publications, news, study results and principal investigators in one place.
Analyze Trends
Constantly scans the landscape for the latest scientific and biopharma news, including: drug approvals, trials, conferences and more. Alerts ensure users get instant updates for their topics of interest.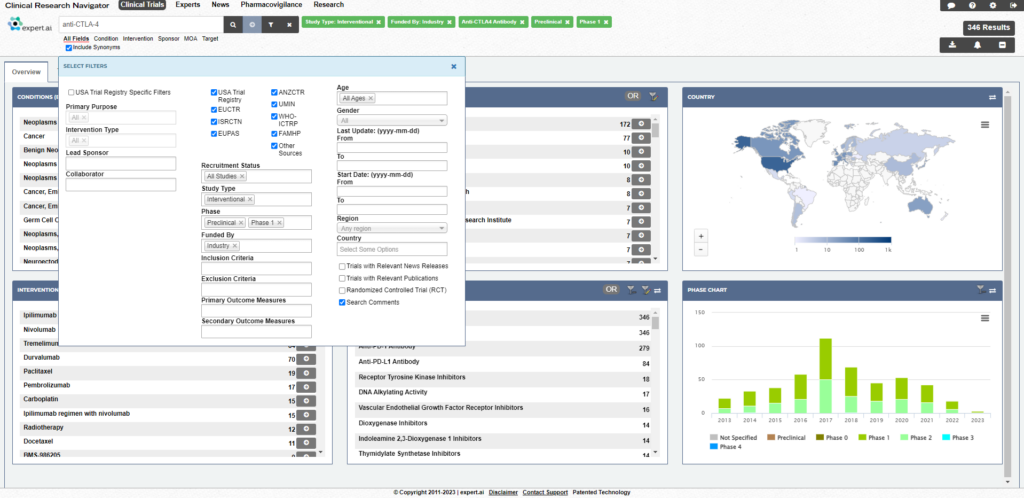 How Scientific Publication Insights & Analytics Works
Constantly monitors and mines biomedical content from Medline Publications, Clinical Trials, NIH-funded research, U.S. Patents, world news, social media and more.
Aggregates information from millions of scientific documents and news releases, providing research scientists with an efficient, one-stop shop where they can discover insights that drive their research.
Provides the most up-to-date and comprehensive data landscape by disease, drug, mechanisms of action, organization or geography.
Allows teams to work collaboratively and get the latest updates on patent activities, scientific publications, grants, clinical trials, adverse events and industry news–all for the purpose of gaining faster insights and supporting critical research.
Supports real-time data visualization for decision makers, with executive summaries, threat levels, launch dates, pipeline and timeline information and bulls-eye charts.
Spend less time searching across different sources and benefits from expert.ai's years of AI-based text analytics experience with a special focus on associating similar content, linking concepts, de-duplicating information and semantically enriching and revealing hidden connections across various sources in a centralized platform.
Data inputs include:
Global Clinical Trial Registries (U.S., Japan, Australia, Europe, WHO, etc.)
Research Publications (MEDLINE database from U.S. National Library of Medicine)
Research Projects (U.S. National Institutes of Health and Research Councils UK)
Patents (Grants and applications from U.S. Patent & Trademark Office)
Adverse Events Reports (U.S. Food and Drug Administration)
Approved Drug Products (U.S. Food and Drug Administration)
Selected Conference Proceedings
Social Media Feeds
News Feeds (syndicated sources in the life sciences, pharmaceuticals, biotechnology, regulatory, drug discovery and drug development areas)