Transform Commercial Property Underwriting with AI and NLU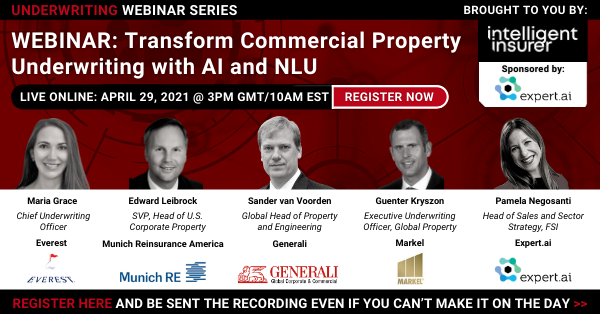 Sign up to watch the webinar
During the webinar "Transform Commercial Property Underwriting with AI and NLU" , Maria Grace, Chief Underwriting Officer- Property & Inland Marine, Everest Insurance – Guenter Kryszon, Executive Underwriting Officer, Global Property, Markel – Edward Leibrock, Senior Vice President, Head of US Corporate Property, Munich Reinsurance America – Sander van Voorden, Global Head of Property and Engineering, Generali Global Corporate and Commercial – Moderator: Pamela Negosanti, Head of Sales and Sector Strategy, FSI, expert.ai, discussed how to harness artificial intelligence (AI), and in particular, natural language understanding (NLU), to:
Inform Policy Reviews: Support underwriters with the right tools to avoid unintended exposure and potential losses.
Quantify Your Cyber Exposure: Transform silent cyber with explicit contract wording about what is covered and what is not.
Avoid Disputes and Litigation: Verify the compliance and improve the transparency of policies.
Increase Market Penetration: Speed up the time it takes for underwriters to review submissions, empower your property team to quickly provide brokers and customers with a tactical price.